Sensational Nigerian actor, Femi Jacobs has addressed those criticizing religion and blaming it for being responsible for Nigeria's problems.
Contrary to the thoughts shared by the accusers, Femi Jacobs argued that religion has played a significant role in ensuring people life pleasing lifestyles.
In a series of tweet, Femi Jacobs said that if not for religion, a lot of people would have been killed because people would have dealt with issues themselves and not leave it to God to solve them.
READ ALSO: He Might Be Short, But He Controls Mighty Men – See Photos Of Th is SUG President
He wrote;
"Religion is our problem. Religion is our problem. Well, maybe. But religion is probably the reason your house help has not stabbed you. Or your wife has not shot you in your sleep. It's good to apply this intellect all round o.

Some of you haven't paid salaries in 6 months. Where do you think your staff go for comfort? Or you think it's your charisma that's keeping you alive? Leave the people be. If you make them face you for answers you'll know why God is God. Religion is the people's…hian. Think am."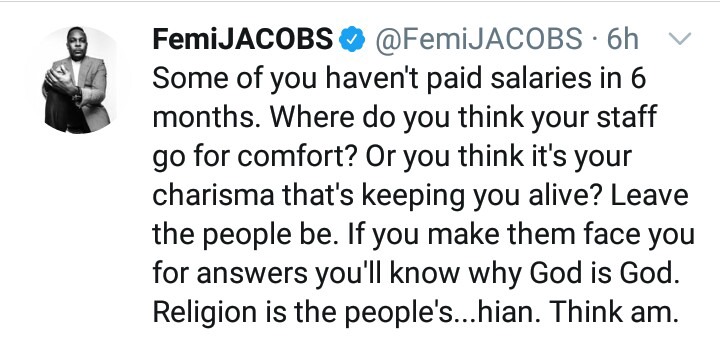 READ ALSO: He Might Be Short, But He Controls Mighty Men – See Photos Of This SUG President
Source:NaijaOnPoint.com.ng