This particular roundabout is usually the center of activities as workers and commuters in the plateau follow this route to almost every part of the state.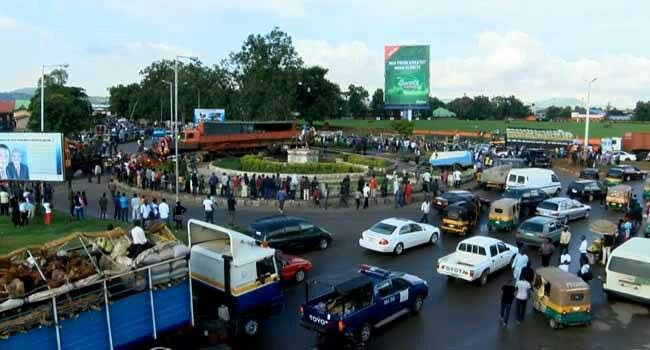 The Jos polo roundabout is always busy at the rush hours i.e 6-10 am and 4-10 pm daily.
This would not be the first time heavy duty trucks loose control and finds a place to stop at the roundabout which is hardly free of cars, motorcycles, tricycles or pedestrians who are going to do their daily businesses.
Although at the time of compiling this report, the number of casualties have not been ascertained as those involved have been rushed to the Bingham university teaching hospital which is a stone throw away from the Jos polo round about.
Eye witness who begged to be anonymous said this sad event happened in the early hours of the morning. Narrates that the trailer had lost control and was on the route from St Louis secondary school approaching polo roundabout where it finally used other cars and tricycles on the way to help it stop.
The trailer which was carrying allot of feeds basically, finally got to a still position after causing allot of damages you to properties of citizens who mostly fled the scene for fear of being smashed.
What do we do to salvage the situation at hand as this is becoming a reoccurring issue always at this same roundabout in Jos.
May God help those who were victims of this accidents to recover quickly as we pray it doesn't reoccur again.
See photos of destructions below;