Here are some facts about Emmanuella
Emmanuella Samuel was born on July 22, 2010. The 10 year old comedian is from Imo state located in the south-eastern part of Nigeria. In 2016, Emmanuella was crowned the creator with the most subscriptions in the entire Sub-Saharan Africa. YouTube awarded her. She also won the Princess comedy award and the best new comedy award in the same year. The awards were sponsored by the Afro- Australian Movie and Music Awards.
She became famous with her comedy skit "This Is Not My Real Face Oh," in which she was making jokes about her headmistress. She has even been getting some huge advertisements for some of the major brands in Nigeria and Africa at large.
ALSO READ  'If Laycon and Ozo were drowning, I would save Ozo and let Laycon drown' – Nengi (video)
Building a house for her mother
"I built this for u mom. For all the prayers, all the encouragements and support. Mummy I know you said u want a portable house and this is it. But forgive me because I must complete ur mansion for you next year. Don't worry it wont make us go to hell🤣🤣🤣🤣 my super Christmas mummy. I love you." She posted.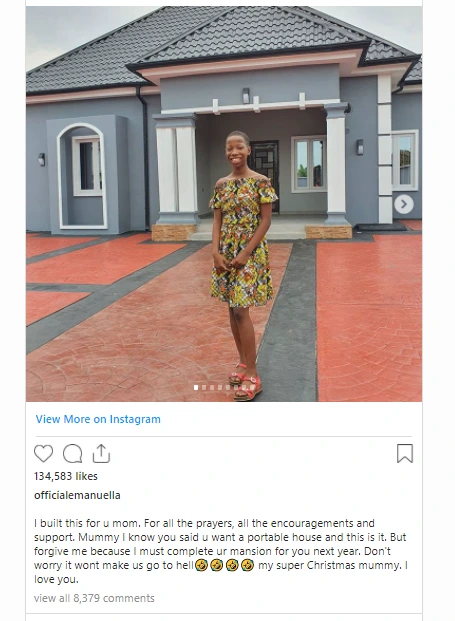 The post gained thousands of comments and likes. Later, there were some more pictures of the house. Just admire this beautiful mansion built by a 10 year old girl for her mother.